Cloud based solution generally refer to on-demand services, computer networks, storage, applications or resources accessed via the internet and through another provider's shared cloud computing infrastructure. The benefits of cloud based solutions to end users and businesses include increased capacity, scalability, functionality, and reduced maintenance and cost for computer infrastructure or in-house staff. Additionally, cloud-based solutions can enable companies to focus on revenue driving initiatives rather than time-consuming, non-core business tasks.
The ability to access cloud-based solutions from anywhere with an internet connection paired with the widespread adoption of smartphones and faster mobile networks have given users the ability to access cloud-based solutions from anywhere and anytime. As the adoption rate of cloud-based solutions continue to rise in small to medium sized businesses, the price points have become affordable to SMBs.
Cloud Computing is generally used to describe data centers available to many users over the Internet. Large clouds, predominant today, often have functions distributed over multiple locations from central servers.
Private Cloud
A private cloud consists of computing resources used exclusively by one organization. The private cloud can be physically located at your organization's on-site datacenter, or it can be hosted by a third-party service provider.
Advantages of a private clouds:
 More flexibility—your organization can customize its cloud environment to meet specific business needs.
Improved security—resources are not shared with others, so higher levels of control and security are possible.
High scalability—private clouds still afford the scalability and efficiency of a public cloud.
Public Cloud
Public clouds are the most common way of deploying cloud computing. Cloud resources (hardware, software, and supporting infrastructure) are owned and operated by a third-party cloud service provider (AWS, AZURE, Google) and delivered over the Internet. You share the same hardware, storage, and network devices with other organizations or cloud "tenants."
Advantages of public clouds:
Lower costs—pay for what you use
No maintenance—included
Near-unlimited scalability
High reliability—a vast network of servers ensures against failure.
Hybrid Cloud
Often called "the best of both worlds," hybrid clouds combine on-premises infrastructure, or private clouds, with public clouds so organizations can reap the advantages of both. In a hybrid cloud, data and applications can move between private and public clouds for greater flexibility and more deployment options.
Advantages of hybrid clouds:
Control—maintain a private infrastructure for sensitive assets.
Flexibility—take advantage of additional resources in the public cloud when you need them.
Cost-effectiveness—ability to scale to the public cloud, pay only when needed.
X  as a Service
Infrastructure as a Service (IaaS)
Virtualizing your colocation, disaster recovery, and storage infrastructure in public, private or hybrid Clouds can make organizations more manageable, secure, and scalable at a much lower cost.
 Desktop as a Service (DaaS)
DaaS eliminates the need for software maintenance and makes purchasing and managing workstations simple and fast.
IT as a Service (ITaaS)
Focus your time and budget on IT strategy by migrating your more tactical IT responsibilities to the Cloud.
Disaster Recovery
Hackers, cyber-terrorists, natural disasters and manmade disasters are no match for the Cloud. Consolidate your hardware infrastructure or become completely hardware independent with a virtual disaster recovery and business continuity solution.
With the right partner, you can centralize your recovery plan in a seamless, secure redundant environment at a fraction of the cost of tradition disaster recovery on-premise solutions.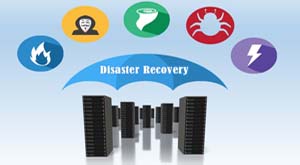 Unified Communications (UC)
Allow on-site and remote users to collaborate seamlessly between devices and platforms with Unified Communications.
VoIP, mobility, video-conferencing, instant messaging, bring-your-own device (BYOD), collaboration, and presence technologies can all work together seamlessly in the cloud…with the right solution and implementation.
Connection Wizards helps organizations strategize, source and implement custom Cloud solutions for organization in more than a dozen verticals. From our portfolio of 40+ approved Cloud suppliers, we'll help you determine the right private, public or hybrid cloud solution for your needs.  Contact Us for a free Custom Cloud Solutions Analysis for your organization.
Connections Wizards has decades of experience delivering secure, scalable, customized technology solutions for customers.